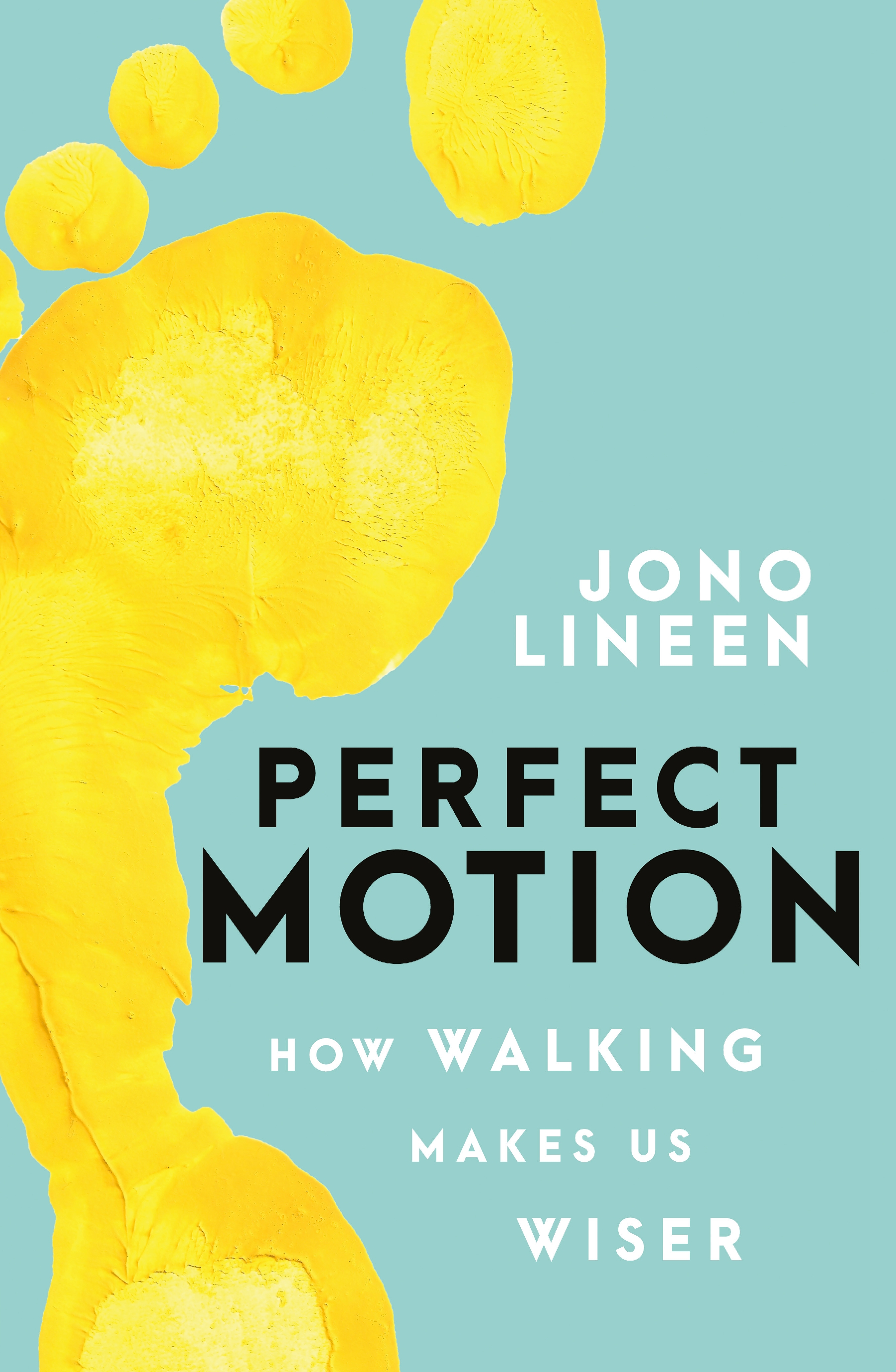 Since our first ancestor rose up to place one foot in front of another, our desire to walk has produced fundamental changes in our bodies and minds.
In Perfect Motion, Jono Lineen investigates that transformation, and why walking has made us more creative, helped us to learn, constructed our perception of time, strengthened our resilience and provided a way of making sense of our life – and death.
After the tragic loss of his younger brother, Lineen experienced walking's regenerative power firsthand. Grief-stricken and adrift, he set off on a 2700-kilometre solo trek across the Himalayas. He walked for months until his legs ached and feet blistered, and by the end of the expedition something had changed in him. He was stronger – not just physically, but psychologically and emotionally.
What had happened? What had given him this feeling of peace; joy even? Determined to find out, he began researching the science and history of walking and running, and discovered that there were fascinating reasons for his metamorphosis. Now, weaving together his own remarkable personal stories with evolutionary research, psychology, neuroscience, anatomy and philosophy, Lineen reveals for the first time the powerful effect that even the shortest strolls can have on us. And why walking is what we're made to do; it is our perfect motion.
Available at all bookstores in Australia as well in e-book and audiobook format.

Into the Heart of the Himalayas is available through bookstores across Australia, directly through Melbourne University Publishing HERE and as an e-book.
The Melbourne Age and Sydney Morning Herald said, "His voice is as measured as the footsteps he takes; it is informed and intelligent and yet his ideas are as simple as the tea and lentils he ate while hiking. He makes it easy to accept the profoundness of "every good thought is a prayer."
There's a good interview with Phillip O'Brien in the Canberra Times HERE
Radio National's Natasha Mitchell called it, "… a staggering adventure," her insightful interview with me on Life Matters is HERE.
A great review on the book in issue 140 of Wild magazine, starts with the prophetic words, "This is not your standard adventure yarn…"
Walking the Earth's Spine can be purchased through Chapters. Indigo, here.
And through Nimbus Publishing here
Here's what the publisher had to say about the book:
Everyone, at some point, suffers the trauma of a close relative dying. It is never easy and such disturbing events often become pivotal moments in the lives they touch. In Walking the Earth's Spine the tragic death of Jono Lineen's younger brother becomes the catalyst for him to move to the Himalayas and spend eight years amongst the world's highest mountains. The experience of those years culminates in what becomes the focus of his second book, a four-month, 2700-kilometer, solo trekking odyssey from Pakistan to Nepal. The hike was the first of its kind, no-one had ever attempted to walk the length of the Western Himalayas alone, but Lineen's intentions were more psychological than physical, the trek was about immersing himself in the Himalayan culture he had grown to love, assimilating the wisdom of the place and using it to come to terms with his brother's death.
What makes Lineen's work unique is his insight into the cultural and spiritual background of the region and his solo approach to the trek. His many years in Central Asia afforded him unsurpassed access to the mountain range and an ability to translate the complexities of the Himalayas for a Western audience. Lineen's openness in being with whomever he meets on the trail, from Pakistani military officers to Tibetan lamas to naked Hindu Saddhus helps generate one of the most complete portraits of the Himalayas ever written. Other books have focused on single areas or specific communities – Jono Lineen, a single, disarming man, crosses borders, religions, castes, languages and philosophical boundaries to find his way.
The book traverses genres, it is the adventure story of the first man to walk alone along the length of the highest mountains on earth; it is an account of one person's interaction with the Himalaya's three great religions; it is a meditation on the joy of walking and, at its heart, it is a literary confirmation of humankind's ability to come to terms with the loss of a loved one.
Jono's first book was River Trilogy  a comparative travelogue of three of the world's great rivers – details can be found here.
The book can be purchased here
Here's what some of the reviews had to say about the book:
The Vancouver Sun said, "Lineen… proves to be an adept observer of how culture and landscape are shaped by the ever-transforming power of moving water and of how rivers in turn, are shaped by culture and landscape."
The Victoria Times-Colonist called it, "…a grand project." and a "… moving travelogue."
In a national C.T.V. interview, Vickie Gabereau described River Trilogy, "… is the best thing I've read in a long time."
The book was reviewed in the notable books section of the Toronto Globe and Mail in March 2002.